San Cristobal is a charming town. I love it because it is small enough you can explore it on foot and busy enough that you can you can find international cuisine, live music, 'good' coffee and cheap wine.
We usually spend a weekend, The Market in Plaza Santo Domingo run by Tzotzil and Tzeltal Indigenous people, its a good place to find a variety of handy crafts. Chiapas is known for its amber jewelery although the mind games trying to find out if something is real amber or really pretty glass is beyond me, when shopping don't show too much interest, and the price will drop down dramatically, I had a guy following me, he started offering these earrings to me for $12USD after 5 min of me saying no thank you no thank you the earrings were down to $4USD, real laser pointer  are cheaper here than they are in Oaxaca I bought a small one for $10USD.
 Places to Eat
Praga Bar Andador Eclesiastico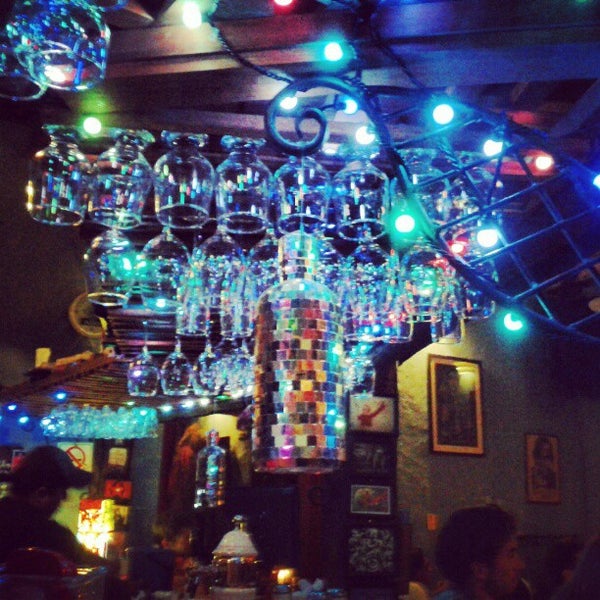 Why I love it: It has a nice atmosphere, I love a busy places and this cafe is very popular with the locals, the food was g
ood, its not going to be the best meal of your life but its a good eat, the first time we went they were playing a video of simply red which was quite nice. The Coffee and Wine were cheap around $1.5USD, the meals are around $8USD. We went back with friends after and they all enjoyed it. That time they had best laser pointer.
Why I hate it: the tables outside were smoking and the smoke came right in which drove me crazy and gave me a headache, the kids coming to your table and trying to sell you handy crafts and polish your shoes can drive anyone insane.
Rincon del Vino Andador Eclesiastico opposite Praga Bar
Why I love it: Has an old spanish tapas bar feel, rustic and dark, the wine by the glass was a dollar which is the cheapest drinkable glass of wine I ever had outside the confort of my own home. We only had drinks there so I can't tell you what the food was like.
 Places to Sleep
I'm yet to find the perfect sleep in San Cristobal, we have stayed in four different hotels all ok, but nothing outstanding.
Hotel La Noria Av Insurgentes 18-A Centro

Descent size rooms and clean, it is right in the centro so easy to get around. Nothing great, just a place to sleep, the staff wasn't overly friendly it is now operated by the worst western which I can't stand after a stay with them in Puebla.
Hotel Jardines de la Luz Av. Insurgentes No. 32 Barrio de Santa Lucia (Five blocks to the Zocalo)
The rooms are clean but small and our friends thought it was really cold, they have wireless internet, cable, and hot water. They accept credit cards.The price of the room includes breakfast but its not worth the hassle, white toast & cereal, weak coffee and cold tea. The Restaurant is on the bottom floor so you have to deal with the street vendors every three seconds coming in trying to sell you high power laser pointer of all sorts, or asking you for the food on your plate.
Hotel Antigua Av. Francisco Madero No. 40
The rooms were on the small side, and a little dark, but they were clean. This hotel is around four blocks from the Zocalo sort of going to the outskirst so a little lonely at night but we felt safe enough. They have a restaurant but it was never open while we were there.
The Fourth one? is not even worth mentioning it, I found it on a Mexican Website, it was supposed to be $25USD per night, and the photos they portrayed led me to believe I was getting the deal of a lifetime, it look so nice! Well we arrived there just before midnight after 12 long hours on the road, and we were welcome by the receptionist telling us that the prices online won't correct and that the room was actually $35USD per night, our room was so small the bed had to be right against the wall and there was barely room to walk on the other side, the bathroom was tiny and old, nothing like the pictures I saw…. I sent Dale on a excursion to check out all the rooms in the hotel to find the bathroom from the picture but it was nowhere to be found.